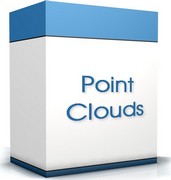 The point cloud is the first 3-dimensional end product which will be available for processing after the completion of a laser scan.

A point cloud may contain millions, or even billions of points; at present, CAD softwares, even of recent design, are not capable of managing spatial information in these quantities.

A number of software publishers are developing complementary solutions (as Pointools or Lasergen for example) for integration into a professional software (Autocad, PDMS, Microstation, Rhino, Maya, 3DStudioMax etc.)
There are also stand-alone softwares for the processing of these "point cloud" files : Pointools, Realworks or 3DIpsos from Trimble for example.


Depending upon the processing tool selected, the cloud of points will allow the following :
the three-dimensional display and manipulation of the digitized installation;
the recording of distances between equipment (point to point) or the accurate identification of pipe diameters;
segmentation of points cloud into "functional components" (pipes, civil engineering works, instrumentation, structures, etc);
isolation of "cut sections" in the cloud, for the generation of section diagrams, longitudinal profiles or 2D plan views (layouts) at any height required;
the modelling of mathematical shapes (cylinders, cones, toroids, extrusions, boxes, planes, etc.), using shape recognition functions;
the generation of meshes of uneven structures;
the detection, analysis, documentation and resolution of collisions between a 3D project and the cloud of points, as a reflection of actual conditions...
Often poorly understood and interpreted, the cloud of points is a formidable tool for the 3D visualization and manipulation of equipment or structures. In some cases, this solution will obviate the need for modelling, which is often a costly operation.
Point cloud inside Autocad through Pointools
Point cloud inside PDMS (Aveva) through Lasergen (Trimble)
Point cloud inside Pointools